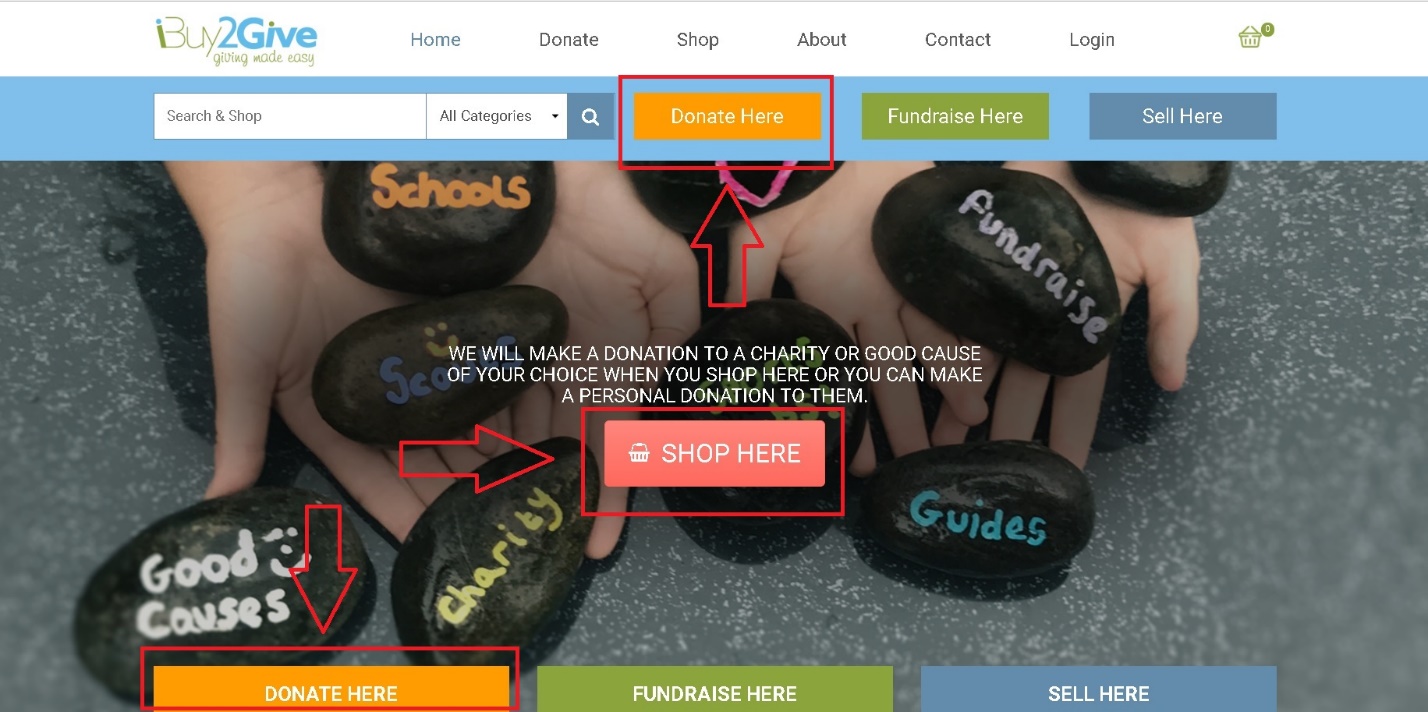 I don't see any sign-up button, how do I sign up?




How do I register?




How do I create an account?




How do I create a customer account?




How do customers sign up on iBuy2Give?



How do I place my order?





Click on the shop button and start shopping. You can also use the search bar to research items or products you are looking to buy.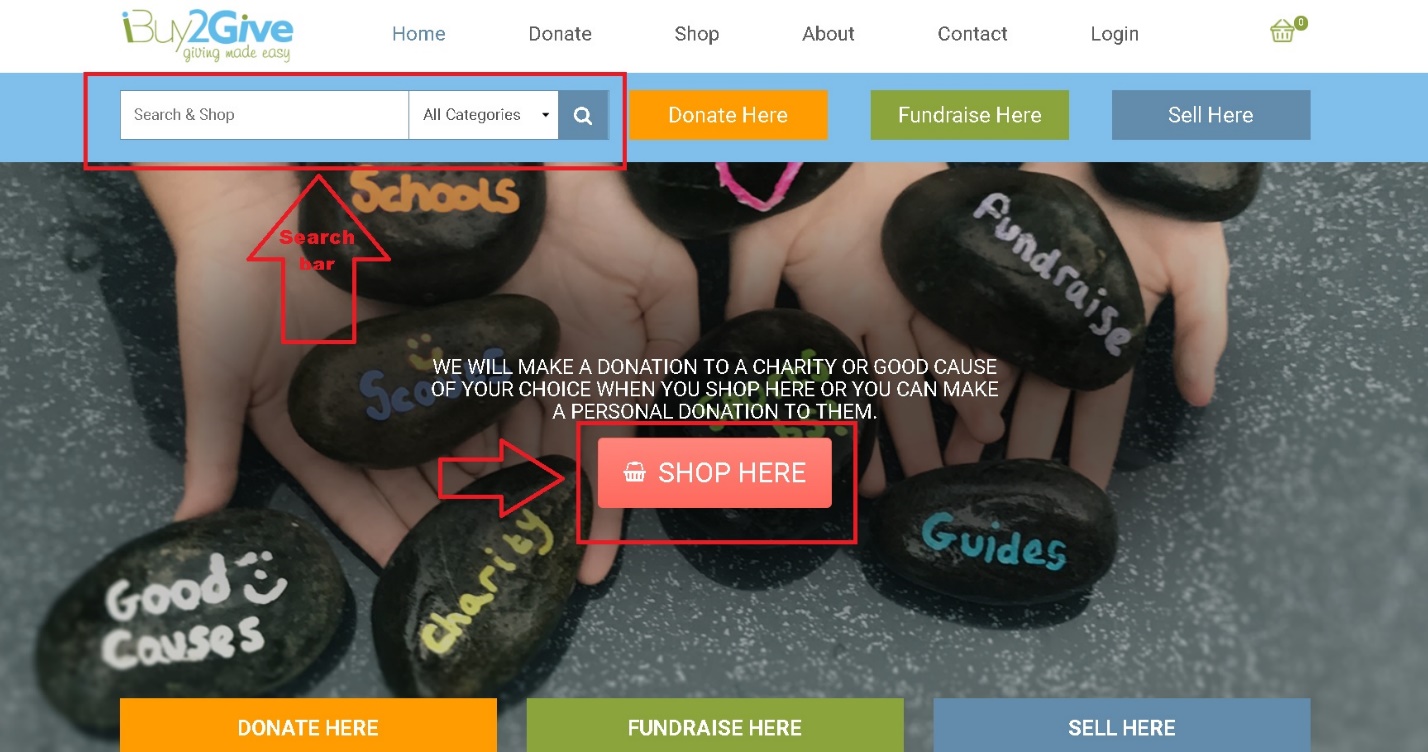 How do I shop items from iBuy2Give?




How to place my order on my cart?




How to buy?




How do I research on the products?



Can I set up a monthly payment to donate?





At this stage, unfortunately, we cannot offer that facility but we are working on it.
Can I make an automatic monthly donation on iBuy2Give?



We are working on this but unfortunately we cannot offer this facility as of yet.
What are the different ways to support charities and good causes?





You can help support your chosen charity or good cause by either donating or making a purchase. We will donate to a fundraiser or good cause of your choice.
How is donating through iBuy2Give different from donating directly to a good cause of my choice?





When you donate, that is a direct financial donation from you. At iBuy2Give we earn a fee from the merchants selling on the platform. Every time a product is sold, we choose to make a donation directly from the fee we receive.
Is there gift aid available on donations?





If a charity or sports' club has registered with HMRC then for those direct donations, you will be able to complete a form so the gift aid can be claimed by the charity or sports' club.
Is there GiftAid on purchases?


Unfortunately HMRC does not allow GiftAid to be claimed when a purchase is made. Also it is iBuy2Give that makes the donation on the sale.
Can the fundraisers claim gift aid on purchases made?





Unfortunately HRMC does not allow any gift aid to be claimed through any form of transaction where a purchase is made.
How do you know how much money goes to the charity or Good Cause?





For donations, we have to charge an administrative card fee of 1.8% +
£
0.20. On purchases, we directly donate 35% of the gross amount that we receive as a seller's fee from the merchant.
Can I share this to my friends on Facebook?
Absolutely. We have made this really easy, on the site simply click the social media icons at the bottom of the home page and we will direct you to a social media sharing site.


If you have any technical issues, please contact us straight away via our "Contact us" link we will be in contact as quickly as possible. It is imperative to us that any technical issue is resolved.
How do I cancel my order?





You can contact the seller through your "My Account" simple find the product in question and you can email them from there, if you have any problems please contact us.
Can I choose the charity/fundraiser of my choice when I am done shopping?
Yes. You can choose the fundraiser you want to support after shopping.


You can contact the seller once you have made a purchase by logging in and going to "My Account". Go to the item you purchased and you will see an email link there, if you need any help from us please contact us.
How do I directly contact the seller?

Can I message the seller?




How to contact the seller?



Can I pay more to give an additional donation to the charity/fundraiser I support?





When you shop, you can only pay for the exact amount of your purchase. However, if you choose to donate more, you can click on the Donate button to give a donation to the charity or fundraiser of your choice.
Other related questions:

How to donate on the charity/fundraiser of my choice?




Can I shop and donate at the same time?




Can I just donate without buying anything?



Where can I get more product information?
Contact us with any questions you have and we will contact the seller for you.

Do you offer any warranty on the products listed?





Similar to eBay and Amzaon, iBuy2Give does not directly sell products. Warranties are covered depending on the seller. Kindly, contact the seller for inquiries.

How do I know if the product listed has warranty?




Who gives the warranty, iBuy2Give or the seller?



What if I am not present when the delivery arrives?





All our sellers use different delivery companies. The majority of the companies will leave a note to let you know how to contact them. If you have any shipping inquiry, kindly contact the seller.

If the product is in the shipping phase, can I still cancel my order?





If the product has been shipped, unfortunately, it is not possible to cancel your order until it has arrived. Once it has arrived, if you wished to send an item back, as a buyer, you have statutory rights which will allow you to do so.

Other related questions:

My order is on the shipping phase, can I still cancel it?




Can I cancel an order that is already being shipped?



Can I buy an item and send it as a gift to the charity?





Yes. Simply fill in the address section with the charity/fundraiser's location so it will be shipped to whoever you want.

How do I know the order was successful?



​



When the order has been made and payment cleared, you will receive an email that will confirm the status of the order.

Do you offer a fraud protection?



​
We use 3D Secure authentication is an additional fraud prevention scheme using Mangopay systems to process transactions. Also, as per internet shopping, all card payments are protected by card companies as well.

How do I know if my order payment was successful?



​
You will receive an email confirmation that your payment has been successful. You will also be notified on check out.

​
Not a problem, we will contact the seller to ask them to respond to you. We will also contact you in three days-time to see if they have contacted you. If not, we will contact them again to make sure that contact has been made.

The seller is not replying, what should I do?




I asked a question to the seller but there was no answer, who should I contact?




The merchant does not reply to my inquiries, who should I talk to?



Why is my order still pending?



​
This can be down to a number of reasons, please forward all the details and we will get back to you as soon as possible.

What happens if the payment failed?



​
Payments and donations will only fail if there has been an issue with the payment. However, if you have noticed that money has been taken from your account, please let us know straight away so we can investigate it.

Other related questions:

What happens if the donation failed?




What should I do when the payment failed?



​
Please contact the seller. If this is not resolved within a reasonable time, please let us know so we can investigate.

What is your refund policy?



​
Each seller has their own individual policies in a similar policy of other sites such as eBay. Having said that, you are fully protected through your statutory rights.

I received the item but it's broken, what should I do?



​
You should contact the seller immediately. If you do not get a satisfactory answer, please contact us so we can look into it immediately.

How can I return the item?



​
Once you have contacted the seller, the seller will tell you the process. However, if for any reason you are not satisfied, please let us know so we can investigate immediately.

Can I trust the seller?



​
All our sellers have been selected and verified by our onboarding team. They are held on strict terms and conditions for quality and performance.

If the seller is not cooperative, how will iBuy2Give help me?



​
Our sellers are bound by terms and conditions of business and we have a policy of being agonisingly fair. We will review each individual case and have the authority on the merchant to agree what we believe to be the right resolution.

How will I know if all sellers and charities in your website are legitimate?



​
Charities:

All our charities are verified as much as possible. We believe that it is unlikely that anybody would donate to a charity or good cause that they do not know.

Sellers:

We verify and check all our merchants to show that they have a solid, professional trading history. If the seller performance level is not good then we will advise them. If there are no changes made, we remove them from the site. We also check their trading history with other online marketplaces.

How can you assure that all donations are being sent to charity/fundraisers?



​
This is automated by MangoPay, our payment provider, who is governed through the financial services and authority [FCA]. They are also governed by UK banking laws.

I have forgotten my password
If you have forgotten your password please go to login in and it will ask you if you have forgotten it, if so you can request that an email is sent to you to change to a new password.